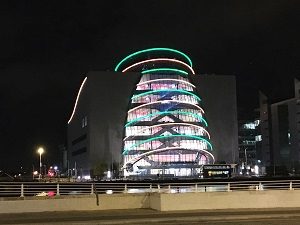 Dublin ICOH conference April-May 2018.
2 sessions dedicated to EPROH communications after selection of papers from call for abstracts.
Scientific Commitee meeting. Election of new chair and secretary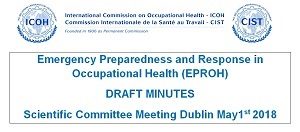 Download EPROH SC minutes at Dublin.
Planned activities for current triennum:
Planned business meetings, conferences, seminars:
One midterm business meeting organized at the time of the first EPROH congress emergencies @ the workshop on 2 and 3 April 2020 at Le Beffroi de Montrouge, Grand-Paris area.
Planned collaborative activities with other (non-ICOH) organizations:
Work with other institutions like ERC (European Resuscitation Council), and International Federation of Red Cross/Red Crescent.
Planned Publications, Guidelines, Position Papers
By working with ERC, International Federation of Red Cross/Red Crescent we aim to convince these institutions to be a part of new guidelines for cardiopulmonary resuscitation at workplace.
Planned participation and support to WHO – ILO meetings and/ or publications:
Some academic of EPROH group is participating (and co-leading) one main systematic review.
Members as of December 16, 2018