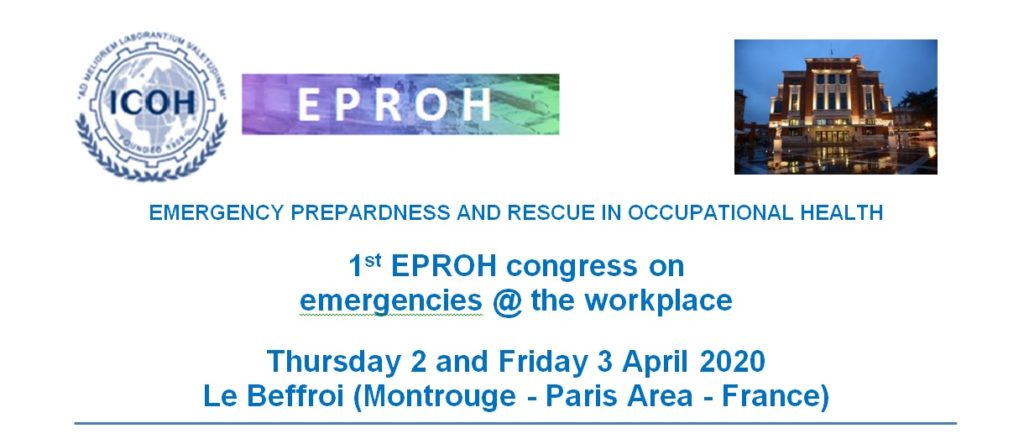 EPROH, Emergency Preparedness and Rescue in Occupational Health*, is proud to announce the 1st congress on emergencies @ the workplace to be held in the Paris area at "Le Beffroi de Montrouge", a fabulous Art Déco 1930 congress facility : A two days congress including plenary sessions shared with JAMU congress**, special EPROH sessions, oral communications, posters display and a social program.
Download the first announcement here !
The partnership includes ICOH on the international side, and SFMTU (Societé Francaise de Médecine du Travail et d'Urgence), SMTOIF (Societé de Médecine du Travail de l'Ouest de l'Ile-de France) and GIT (Groupement des Infirmières du travail) on the French side.
Who should attend?
Occupational health practitioners, Health safety environment officers, Disasters planning managers, Emergency practitioners and all those involved in emergency preparedness and rescue in the occupational setting.
emergencies @ the workplace will be the opportunity to learn about the updates, the new available procedures and guidelines, bring and share experience with other practitioners in that field. 2 sessions will be dedicated to oral presentations selected after a call for abstract.
Timeline:
20 June 2019: First announcement and preliminary program.
8 July 2019: Call for abstracts open
10 September 2019: Second announcement and registration open
15 October 2019: Deadline for abstract reception
15 November 2019: Notification of acceptance to abstracts' authors
29 November 2019: deadline for early bird reduced registration fee
Registration Fees:
> Before 29/11/2019 (early bird) :
600 € (ICOH members) – 700 € (general)
> After 29/11/2019 (regular) :
700 € (ICOH members) – 800 € (general)


Scientific committee (tbc)
Alexis Descatha (France), Susanne Schunder- Tatzber (Austria), Grace Sembajwe (USA), Thomas Loeb (France), and members of EPROH scientific committee.
Organisation committee (tbc)
Michel Baer, Anna Ozguler, Guillaume Douge, Marc Fadel (France)
Call for abstratcs is open !



* EPROH is the scientific committee of ICOH dedicated to Emergency preparedness and response.
** JAMU will bring together more than 500 occupational health practitioners from France for the 32nd edition, featuring plenary sessions, parallel sessions, 12 different workshops and the opportunity to exchange with colleagues.